Looking for the best BuddyPress plugins? We've listed the top plugins that you can use to add different functionalities to your community site created using the BuddyPress plugin.
While there are a few other options to create a social networking site, BuddyPress is the backbone when it comes to creating a social site on the WordPress platform.
What is BuddyPress?
BuddyPress is an open-source plugin that will add all the core features needed for a social media site and you can install additional plugins from this list to add extra features as per your need.
It ads activity stream, member profile, register/login page, and other core features that are must-have for a community site.
While creating a social community site using the BuddyPress plugin, you have to make sure that the theme you are using is comparable with the plugin. You can have a look at this list of top BuddyPress-compatible WordPress themes that you can use.
In this article, we have listed the top BuddyPress plugins that you can use to take your BuddyPress site to the next level.
01

. Youzify
Thousands of customers trust Youzify (formerly Youzer ) as their preferable BuddyPress plugin. Owing to its advanced features and management solutions, Youzify is known to create a loyal and engaged community. 
The advantage of having Youzify as your BuddyPress plugin is that it provides a secure membership system and a wide range of customizable options.  
Core Features: 
For secure membership login, Youzify provides social login, advanced Captcha, and limited login attempts. 
It provides easy integration with WooCommerce, Mailchimp, and many other plugins and themes. 
The plugin allows you to choose from over 15 color schemes, 35 widgets, and 14 header styles. 
It provides a powerful admin panel for easy customization. 
02

. BuddyBoss Wall
To add a Facebook-like wall to your WordPress website, you'll need the help of the BuddyBoss Wall plugin. One cannot deny the fact Facebook has provided some of the best interactive experiences to its users. 
Similarly, BuddyBoss Wall will allow your users to interact with wall posting where you can see each other's profiles, and like, and see the comprehensive news feed. 
Core Features: 
The plugin allows the users to add posts, comments and likes to other people's posts. 
The users can also add images with the help of links. 
To enrich the customer experience, the plugin allows users to set their privacy settings.
The users would be able to see a personalized News Feed that will cover all the friends and group activities that are attached to. 
03

. BuddyPress User Blog
Another plugin from the creative team of BuddyBoss, BuddyPress User Blog is more concerned with handing over the blogging abilities to the users. 
The plugin allows the users to add and manage their blogs on the website after sending the blog for review first. This plugin can prove to be very useful to create a blogging platform. A clean user interface will enhance the writing experience of your users. 
Core Features: 
Users can add categories, tags, and even featured images to their blogs. 
To generate more engagement on the website, the plugin allows the users to save or recommend any blog on the website. 
Users can also embed videos and images on their posts. 
With easy navigation, a user can see other profiles' blogs as well. 
04

. MemberPress
MemberPress will integrate with BuddyPress to give you even more options for membership management and social interaction on your site.
You'll be able to take full advantage of all the features that BuddyPress offers, while also being able to use MemberPress to manage your memberships and payments. This integration is perfect for those who want to create a social community around their membership site.
Using these two powerful plugins together will give you the ultimate solution for managing your members and providing them with a great experience on your site.
Core Features: 
Create a social community for your members
Use MemberPress to manage your memberships and payments
Integrates perfectly with many leading software
Allow members to interact with each other on your site
Provide a great experience for your members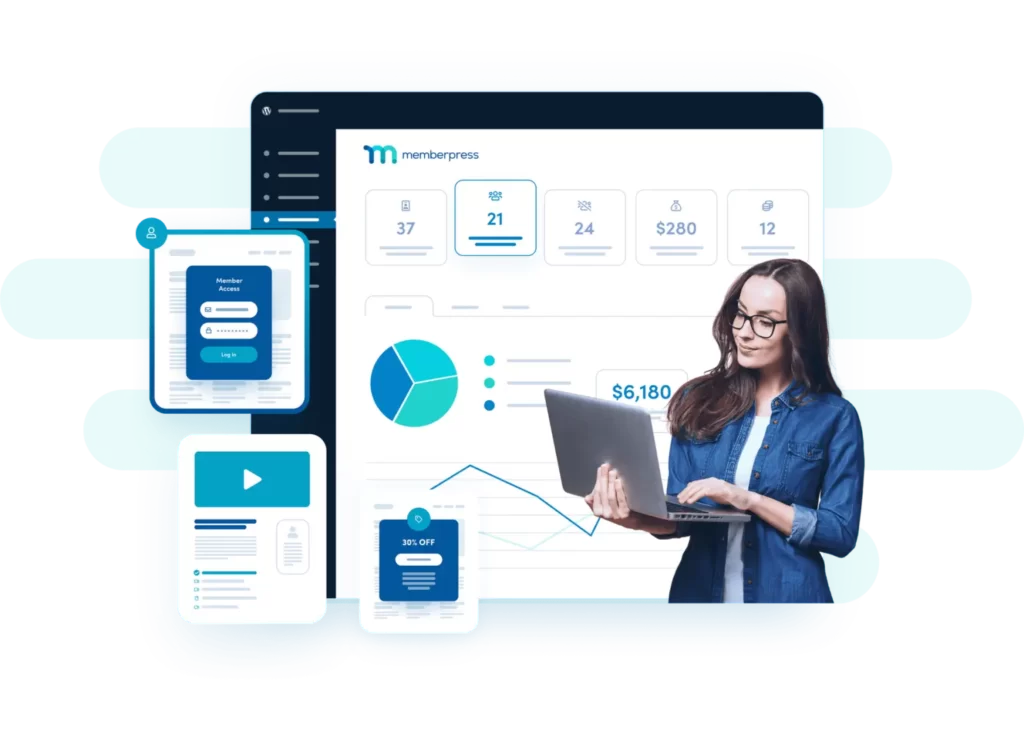 05

. Ultimate Membership Pro
Ultimate Membership Pro is one of the best-selling WordPress membership plugins on the Envato market. This plugin is known to create multi-level exclusive access to the membership. 
Simply put, you'll be able to give users different packages, i.e. from free to paid plans. Moreover, you'll be able to add 40 different add-ons available with this plugin. 
The setup is kept relatively easy. 
Core Features: 
The admin will be provided a member dashboard where the admin can follow the user's activity and subscription status. 
The plugin provides built-in subscriptions such as MailChimp, PayPal, etc. 
You can also put a restriction on a particular type of content. 
06

. UserPro 
If you want your users to avoid the long process of registration, you have to try User Pro. It allows your users to log in to your community platform with the help of their existing social media profiles. 
It is the simplest way to provide a secure feeling to your users. The plugin allows you to set up a social network where the users can build connections and see the activity feeds. 
Core Features: 
This plugin provides seamless integration with WooCommerce, BuddyPress, MyCred, and various other third-party apps and plugins. 
You can restrict a particular content and give badges to your members. 
It provides a searchable member list with the help of mini thumbnail view and funky collage view.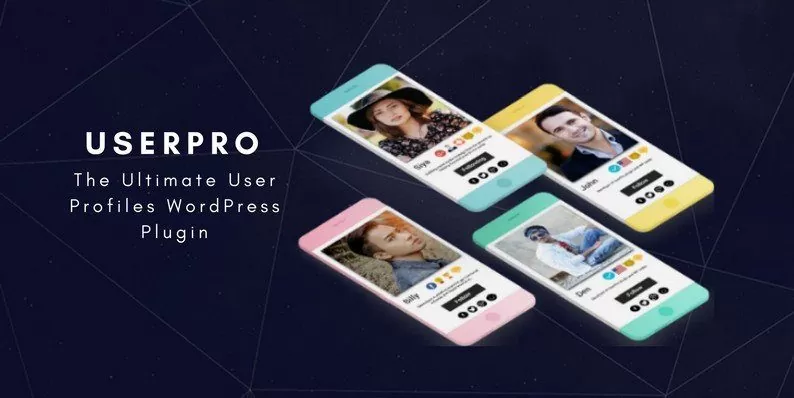 07

. ADS PRO
As your site grows, you can approach advertisers to sponsor your site or you can join good ad networks and start monetizing your community site.
Ads Pro is one of the most comprehensive WordPress ad management plugins that bring in a lot of flexibility to manage your ads and increase overall revenue from your ads.
Once you start using this plugin, you don't have to add the code for the advertisements manually on every page. You can use this plugin to add the code on over 20 top converting locations of your site and pages so that you can quickly add or remove the ads as per your need.
Ads Pro gives you a lot of control to display your ads. You can control it geographically and show specific ads in specific locations. You can control the ads as per device as well.
The plugin comes with over 25 ad templates that you can use to display ads on your site. You will be able to control everything from the powerful admin panel that the plugin offers.
Core Features: 
100% free from Adblocker
Fully responsive ads
Over 20 optimized locations for ads
Over 25 ready ad templates
Powerful plugin admin panel
Complete control over how and when you want to show the ads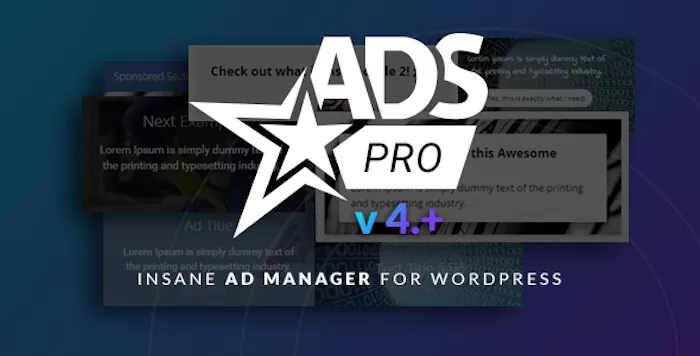 08

. BuddyPress Member Types
If you're looking for a plugin that will help you categorize your members, BuddyPress Member Types would be an ideal plugin. The wp-admin interface would allow you to create and manage different member types.
Choosing the member type isn't only a task for admins as users can also choose the type of members they are. This particular plugin can do wonders for social sites such as dating sites, education sites, and job sites. 
Core Features: 
The plugin allows you to import your existing member types from any external plugin. 
To control the member types easily, the panel would showcase a separate tab for each member type. 
The plugin allows you to customize the registration process so that you can collect various profile information. 
09

. ProfilePress
One of the main difficulties of running a social networking site is creating an engaging and eye-catching login registration page. ProfilePress is one of the best user registration WordPress plugins. 
The plugin offers a user profile page, registration form, and front-end password form to your users. It cannot only seamlessly integrate with BuddyPress but also with WooCommerce and bbPress. 
Core Features:
To make the login process easier, the plugin offers quick social media login options. 
The plugin provides easy-to-use templates that won't require the knowledge of HTML. 
The plugin includes unlimited AJAX login forms, registration forms, and password reset forms. 
The plugin offers a built-in welcome message to the users. 
10

. Location Autocomplete
To make your social community site as user-friendly as possible, user location details seem to be an important criterion. The Location Autocomplete plugin by BuddyBoss does a tremendous job of updating the location of the users easily. 
It offers address suggestions and auto-completion with the help of Google Address Suggestion. This plugin would be appropriate if you're thinking of turning your social site for future promotional activities. 
Core Features: 
All the locations are auto-corrected through Google which makes the process accurate. 
The plugin allows the members to add the location data at the time of registration.
The plugin offers full customizable address formats. This feature will ensure that you collect the information that you want to select. 
11

. rtMedia
rtMedia is a feature-rick media solution for not only BuddyPress but also for WordPress and bbPress. The plugin provides the ability to attach media to the activity streams. You won't have to indulge in any coding activity as rtMedia offers a simple drag-and-drop uploading feature. 
While the free version of this plugin offers seamless integration, templating system, and other basic features, the premium version provides photo-tagging and playlist options. 
Core Features:
The premium version not only allows you to add Instagram effects to the picture but also watermarks for copyright issues. 
The featured-media feature allows you to set your profile just like the Facebook-style cover. 
The plugin also allows you to create a playlist and add your list of favorites. 
12

. BuddyPress Featured Members
Facebook recently made a special provision where different page admins can reward their followers with a special badge. BuddyPress Featured Members plugin works on a similar note where you can reward your active members and display them as featured users on your site. 
The seamless integration of this plugin only requires the pre-installation of the BuddyPress plugin on your website. This plugin has all the essential features that will keep your members motivated and perform more engagement activities. 
Core Features: 
The admin follows the simple feature of activating the set featured button on a user's profile page. 
Admins cal select multiple users and locate multiple widgets at different sections of the website. 
The plugin allows you to take advantage of several BuddyPress add-ons. 
13

. MediaPress
MediaPress is quite similar to the rtMedia plugin that offers media solutions to your social website. MediaPress does a wonderful job of providing a pleasant user experience to your users through its amazing gallery solutions. 
Using this plugin, your users can upload or share useful information on the site. It seamlessly integrates with both WordPress and BuddyPress platforms. 
Core Features: 
The plugin allows the users to embed Youtube and Facebook videos on the website. 
The plugin offers multiple layouts to showcase media such as a grid, playlist, and list. 
With a simple drag-and-drop feature, you can add videos and photos to the website. 
The plugin provides widgets for galleries, audio, and videos.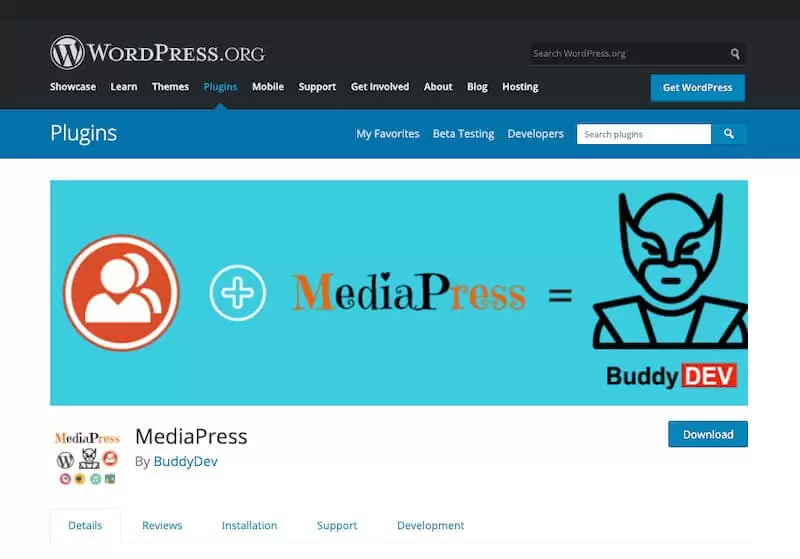 14

. BuddyPress for LearnDash
If you want your learners to connect with each other, you have to look no further than BuddyPress for the LearnDash plugin. LearnDash is a learning management system plugin that allows creators to sell their online courses. This plugin provides seamless integration between BuddyPress and LearnDash. 
With the help of this plugin, course participants will be automatically added to the chat group where they can share information. The admin of the group would have control over the actions allowed in the group. 
Core Features: 
The group admin would be able to see the group interactions.
Admin can see valuable information such as course completion and grades. 
This plugin supports all the major themes available on the web. 
Users can comment on the lesson page and queries. 
15

. BuddyPress Friends Suggestions Pro
As the name suggests, you can use this plugin to display friend suggestions and follow suggestions to users. If you are a regular Facebook user, you must have seen the "People you may know" friend suggestions. You can use this plugin to add similar functionality to your community site created with BuddyPress.
It is going to be a very handy feature for your community site as it will enhance the overall community feel of your site as well as engagement among users.
Core Features: 
Custom friend suggestions based on user profile data
Custom follow suggestion
Option ot limit the number of suggestions
Option ot set multiple matching conditions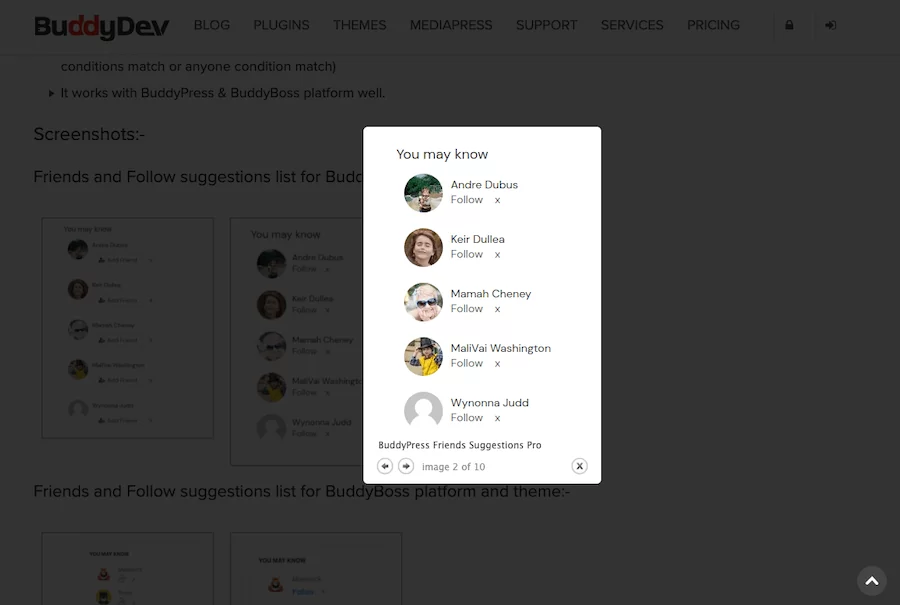 16

. BuddyPress Profanity 
As your social site's popularity increases, unwanted activities start to take place. You might want to have some advanced control over certain words by restricting them. BuddyPress Profanity plugin will help you in this process and keep your social site clean. 
The plugin allows you to set certain keywords and censor them on your site. Then, BuddyPress Profanity will automatically censor these words in both public as well as private messages. 
Core Features: 
You have an option to import content filters on activities, comments, or private messages. 
The plugin also cleans out the unwanted words already existing in the community. 
The admin is also provided with a choice to enable case-sensitive filters.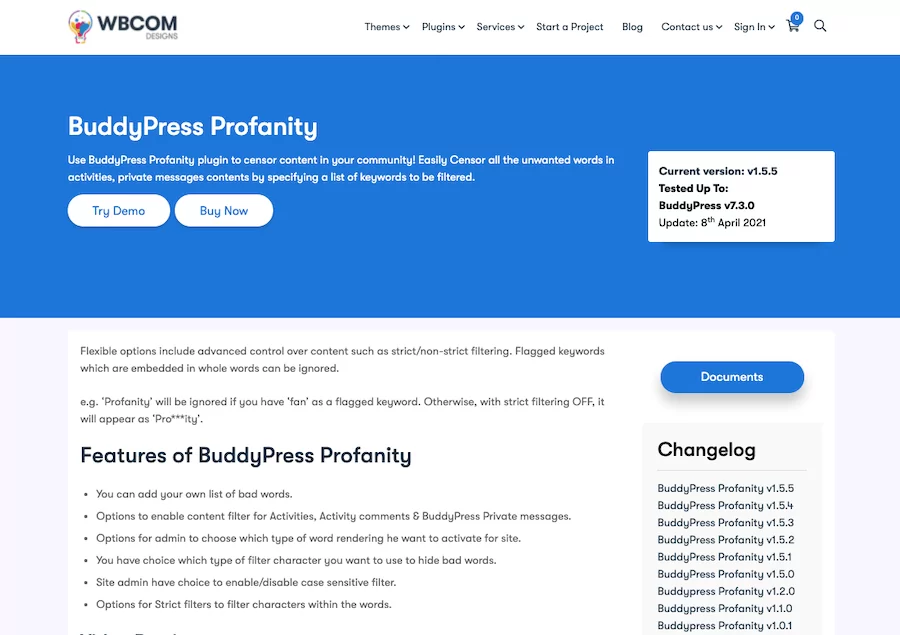 17

. BuddyPress Registration Options
Site security and managing spam on your social network site become important aspects when the sites are starting to gain some popularity. BuddyPress Registration Options plugin provides the necessary protection against these bots or spam. 
This plugin will not only allow you to enable user modification but also restrict access to important areas of your website. This plugin also offers bbPress support. 
Core Features: 
The plugin only covers BuddyPress and bbPress areas. 
It allows you to send an activation email to the users if their account is approved or denied. 
 The new members are not allowed to access the website without approval.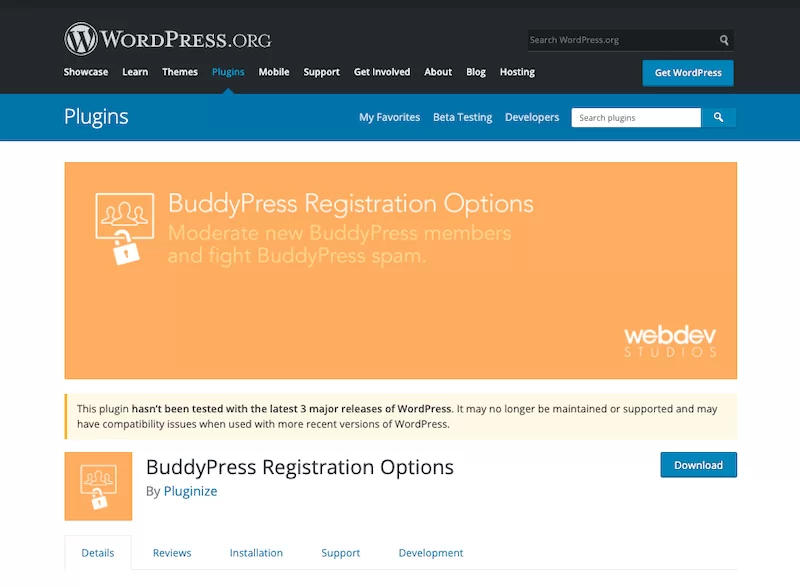 18

. W3 Total Cache
The last thing you'd want with your social or community networking site is to perform slowly. Although every site requires a plugin that can speed up the site, social networking sites it the most. W3 Total Cache is one of the best WordPress plugins that improve the SEO and user experience of your site. 
Enabling the W3 Total Cache plugin for your website will improve conversation rates as your site will perform better on the Search engine ranking. 
Core Features: 
The plugin provides both mobile and SSL support. 
The plugin provides catching of compressed pages and posts, feeds, search results, CSS, and other database objects. 
It uses Lazy Load to improve the user experience for off-screen images. 
19

. BuddyPress Polls
User polls turned out to be one of the most important aspects to create user engagement on a social networking site. Facebook and Instagram provided many options to their users to create engaging polls. 
For your BuddyPress-powered community, BuddyPress Polls is the best poll plugin available as not many poll plugins are compatible with BuddyPress. 
Core Features: 
The plugin allows you to create a poll in both activity and group areas. 
Users may not have to log in to see the results of the poll. 
BuddyPress polls provide both single and multiple-option polls. 
The plugin is fully responsive to any screen device. 
20

. BuddyPress Better Registration
As the name suggests, the BuddyPress Better Registration plugin replaces the default BuddyPress registration process with a more convenient and easier process.
The new registration process will only ask the user for an email address and guide through a multi-stage activation process. This process will include an option to upload a profile picture, join a group, add friends, etc. This process will help increase the willingness to register as a new user. 
Core Features: 
The plugin allows the users to log in with their Facebook and Google ids. 
The plugin allows the user to find friends at the time of registration. 
It enables the users to skip options described during the activation process.
21

. BuddyPress Analytics 
After you've built a successful website, it becomes important for you to understand your customers better through the means of analytics. The same methodology applies to BuddyPress platforms as well. 
The BuddyPress Analytics plugin will provide you with key data such as the number of active members on the site, most-used keywords, and the time spent on the site. 
Core Features: 
To install this plugin, you'll need to install the BuddyPress platform first and then integrate it.
The plugins allow you to see the list of users with empty profiles. 
An easy-to-use dashboard allows the admin to have all the insights within his/her reach. 
22

. BuddyPress Global Search
If you want your users to search through every BuddyPress component, you have to install the BuddyPress Global Search plugin. With the help of dropdown search results, users would be able to search pages, posts, and custom posts. 
It is a very advanced search plugin for BuddyPress platforms. The best feature of this plugin is that it is available for free. 
Core Features: 
You have to install the BuddyPress platform before installing the BuddyPress Global Search plugin. 
The plugin comes with lifetime automatic updates. It just requires you to click the update option. 
The plugin provides dedicated customer support through a forum moderator. 
Final Word
This was our list of best BuddyPress plugins that can help you to create a comprehensive social networking website using the WordPress CMS. While you don't need all of these plugins, you can pick the ones you need as per the features you wish to have on your site.
Source link