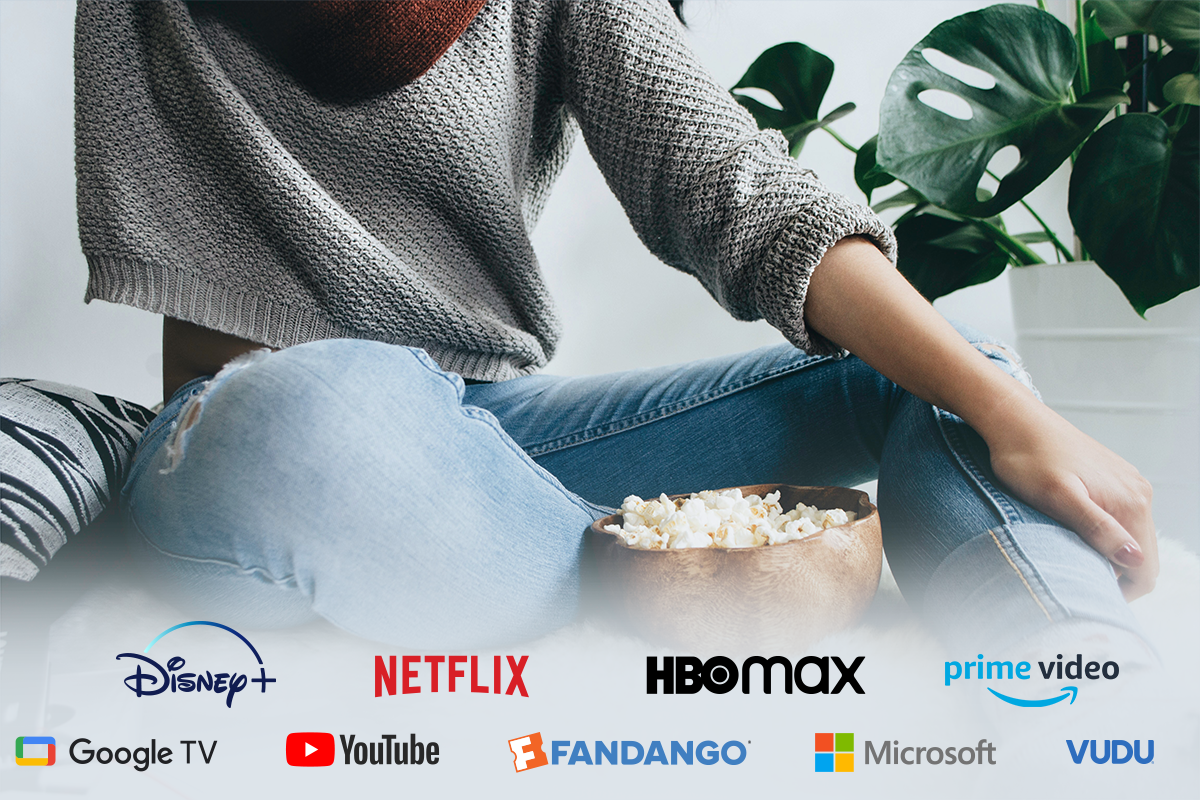 Streaming services have taken over as one of the best ways to catch the latest movies. Whether they're making a stop in theaters before rolling out digital rentals or they launch as first-run originals from the likes of Netflix, Apple TV+, or HBO; we're rounding up the best titles so you're not left in the dark — until it's time to start the film, that is. Check back each week (usually on Friday) to see the latest additions for movies that are now available to stream, the latest theatrical releases, and movies coming next week.
July 22
Paws of Fury: The Legend of Hank
Genre: Family, Comedy, Animation, Action
Release Date: July 22 (Redbox) | July 15 (theater)
Cast: Michael Cera, Ricky Gervais, Mel Brooks, George Takei, Aasif Mandvi, Gabriel Iglesias, Djimon Hounsou, Michelle Yeoh, Samuel L. Jackson
A down-on-his-luck hound finds himself in a town full of cats who need a hero to defend them from a ruthless villain's evil plot to wipe their village off the map. With help from a reluctant trainer, the underdog must assume the role of fearsome samurai and team up with the felines to save the day. The only problem is — they all hate dogs.
Mr. Malcolm's List
Genre: Comedy, Romance, History
Release Date: July 21 | July 1 (theater)
Cast: Freida Pinto, Sope Dirisu, Oliver Jackson-Cohen, Ashley Park, Zawe Ashton, Theo James
When she fails to meet an item on his list of requirements for a bride, Julia Thistlewaite is jilted by London's most eligible bachelor, Mr. Malcolm. Feeling humiliated and determined to exact revenge, she convinces her friend Selina Dalton to play the role of his ideal match. Soon, Mr. Malcolm wonders whether he's found the perfect woman…or the perfect hoax.
Anything's Possible
Genre: Romance, Comedy, Drama
Release Date: July 22 (Amazon Prime Video)
Cast: Eva Reign, Abubakr Ali, Renée Elise Goldsberry, Courtnee Carter, Kelly Lamor Wilson, Grant Reynolds, Alec Ludacka
Anything's Possible is a delightfully modern Gen Z coming-of-age story that follows Kelsa, a confident high school girl who is trans, as she navigates through senior year. When her classmate Khal gets a crush on her, he musters up the courage to ask her out, despite the drama he knows it could cause. What transpires is a romance that showcases the joy, tenderness, and pain of young love.
The Gray Man
Genre: Action, Thriller, Adventure
Release Date: July 22
Cast: Ryan Gosling, Chris Evans, Ana de Armas, Jessica Henwick, Regé-Jean Page, Wagner Moura, Julia Butters, Dhanush, Alfre Woodard
When the CIA's most skilled mercenary known as Court Gentry, aka Sierra Six, accidentally uncovers dark agency secrets, he becomes a primary target and is hunted around the world by psychopathic former colleague Lloyd Hansen and international assassins.
The Forgiven
Genre: Drama
Release Date: July 19 | July 1 (theater)
Cast: Ralph Fiennes, Jessica Chastain, Matt Smith, Caleb Landry Jones, Abbey Lee, Christopher Abbott, Marie-Josée Croze, Alex Jennings, Saïd Taghmaoui
Speeding through the Moroccan desert to attend an old friend's lavish weekend party, wealthy Londoners David and Jo Henninger (Ralph Fiennes and Jessica Chastain) are involved in a tragic accident with a local teenage boy. Arriving late at the grand villa with the debauched party raging, the couple attempts to cover up the incident with the collusion of the local police. But when the boy's father arrives seeking justice, the stage is set for a tension-filled culture clash in which David and Jo must come to terms with their fateful act and its shattering consequences.
The Wheel
Genre: Drama
Release Date: July 22
Cast: Taylor Gray, Amber Midthunder, Bethany Anne Lind, Nelson Lee, Kevin Pasdon, Carly Nykanen, Sean Crampton
Walker and Albee were thrown together in a children's group home and quickly became inseparable. When they married at the tender age of 16, Albee was rescued from her rough foster family. It's now eight years later and they are on the brink of divorce, despite being the only family either of them has ever known. Walker hopes that a mountain Airbnb getaway spent doing the practices in a relationship self-help book will save their floundering union. If only aspiring performer Albee shared his optimism and good intentions.
Bundles
Genre: Thriller
Release Date: July 22
Cast: Yovanna Harris, Naysa Young, Tanisha Cardwell, Alexis Jacquelyn Smith, Layla Khepri, Karen Culi, Kevin Tan, Lisa Renee Marshall, Imonte Ford
High school senior Morgan's older sister and good friends, Jackie, Vic, and Tiff, comfort her when her senior picture day takes a turn for the worse thanks to an old elementary besty and current rival, Maria Sanchez. After successfully seeing through the perfect plot for revenge, the four young ladies find a lucrative business venture to be made of what was supposed to be a one-time payback to put Maria in her place. Things are going great until their endeavors lead them barking up the wrong tree – only in this case, the tree bites back.
Deep in the Heart: A Texas Wildlife Story
Genre: Documentary
Release Date: July 18 | June 3 (in Texas theathers) (theater)
Cast: Matthew McConaughey
Directed by award winning filmmaker Ben Masters, Deep in the Heart is a visually stunning celebration of Texas' diverse landscapes and remarkable wildlife found nowhere else. Told through the eyes of wildlife species ranging from the mysterious blind catfish to the elusive mountain lion, the film follows our ever-changing relationship with the natural world and how we affect it. Narrated by beloved Texan, Matthew McConaughey, the film aims to safeguard our remaining wild places and to recognize the importance of Texas' conservation on a continental scale.
Facing Nolan
Genre: Documentary
Release Date: July 19
Cast: Robert Goldman, Mike MacRae, Nolan Ryan
In the world of Major League Baseball no one has created a mythology like Nolan Ryan. Told from the point of view of the hitters who faced him and the teammates who revered him, Facing Nolan is the definitive documentary of a Texas legend.
Aftershock
Genre: Documentary
Release Date: July 22
Cast: Paula Eiselt, Tonya Lewis Lee, Paula Eiselt, Tonya Lewis Lee, Tegan Acton, Geralyn White Dreyfous, Davis Guggenheim, Emma Pompetti, Dawn Porter, Michael Crommett, Kerwin DeVonish, Jenni Morello, Flavia de Souza, Sunita Prasad, Chanda Dancy, Jenny Raskin, Radhi Taylor, Janet Tittiger, Peter Tittiger
An alarmingly disproportionate number of Black women are failed every year by the U.S. maternal health system. Shamony Gibson and Amber Rose Isaac were vibrant, excited mothers-to-be whose deaths due to childbirth complications were preventable. Now, their partners and families are determined to sound a rallying cry around this chilling yet largely ignored crisis.
Men
Genre: Horror, Drama, Mystery
Release Date: July 19 | May 20 (theater)
Cast: Jessie Buckley, Rory Kinnear, Paapa Essiedu, Gayle Rankin, Sarah Twomey, Zak Rothera-Oxley, Sonoya Mizuno
In the aftermath of a personal tragedy, Harper retreats alone to the beautiful English countryside, hoping to find a place to heal. But someone — or something — from the surrounding woods appears to be stalking her, and what begins as simmering dread becomes a fully-formed nightmare, inhabited by her darkest memories and fears.
The Righteous
Genre: Drama, Horror
Release Date: July 19
Cast: Mark O'Brien, Henry Czerny, Mimi Kuzyk, Mayko Nguyen, Kate Corbett, Nigel Bennett, Adrianna Barkey
A unique and darkly engaging spiritual thriller, strikingly shot in black and white, The Righteous tells the story of Frederic (Henry Czerny) a grieving man struggling with his faith, who helps an injured young man, Aaron Smith (Mark O'Brien) who stumbles onto his property one night, claiming to be lost in the woods. Frederic and his wife (Mimi Kuzyk) invite the man to stay for the night, but Frederic soon begins to have doubts about this enigmatic stranger's story — and his motives for being there. When Aaron asks Frederic to commit an unspeakable deed, it becomes clear that the man is not who he seems, and has been sent to test the very limits of Frederic's existence.
Amityville in Space
Genre: Horror, Science Fiction
Release Date: July 22
Cast: Titus Himmelberger, Cassandra Hayes, Jeff Kirkendall, Tim Hatch, Ryan Dalton
The ultimate battle against the Amityville curse begins after the infamous murder house is exorcised from Earth and reappears in outer space in Amityville in Space.
July 15
Jurassic World Dominion
Genre: Adventure, Action, Science Fiction, Thriller
Release Date: July 15 | June 10 (theater)
Cast: Sam Neill, Laura Dern, Jeff Goldblum, Chris Pratt, Bryce Dallas Howard, Mamoudou Athie, Scott Haze, Dichen Lachman, Daniella Pineda
This summer, experience the epic conclusion to the Jurassic era as two generations unite for the first time. Chris Pratt and Bryce Dallas Howard are joined by Oscar®-winner Laura Dern, Jeff Goldblum and Sam Neill in Jurassic World Dominion, a bold, timely and breathtaking new adventure that spans the globe. From Jurassic World architect and director Colin Trevorrow, Dominion takes place four years after Isla Nublar has been destroyed. Dinosaurs now live–and hunt–alongside humans all over the world. This fragile balance will reshape the future and determine, once and for all, whether human beings are to remain the apex predators on a planet they now share with history's most fearsome creatures.
The Bob's Burgers Movie
Genre: Animation, Adventure, Comedy
Release Date: July 12 (HBO Max or Hulu) | May 27 (theater)
Cast: H. Jon Benjamin, Dan Mintz, John Roberts, Eugene Mirman, Kristen Schaal, Larry Murphy, Kevin Kline, Zach Galifianakis, David Wain
When a ruptured water main creates an enormous sinkhole right in front of Bob's Burgers, it blocks the entrance indefinitely and ruins the Belchers' plans for a successful summer. While Bob and Linda struggle to keep the business afloat, the kids try to solve a mystery that could save their family's restaurant. As the dangers mount, these underdogs help each other find hope and fight to get back behind the counter, where they belong.
Zombies 3
Genre: Comedy, Science Fiction, Fantasy, Family, TV Movie
Release Date: July 15 (Disney+)
Cast: Meg Donnelly, Milo Manheim, Matt Cornett, Terry Hu, Kyra Tantao, Pearce Joza, Chandler Kinney, Ariel Martin, Kingston Foster
Zed and Addison are beginning their final year at Seabrook High in the town that's become a safe haven for monsters and humans alike. Zed is anticipating an athletic scholarship that will make him the first Zombie to attend college, while Addison is gearing up for Seabrook's first international cheer-off competition. Then suddenly, extraterrestrial beings appear around Seabrook, provoking something other than friendly competition
1UP
Genre: Comedy
Release Date: July 15 (Amazon Prime Video)
Cast: Paris Berelc, Ruby Rose, Taylor Zakhar Perez, Hari Nef, Nicholas Coombe, Jordan Madley, Robert Levey II, Lolita Milena, Jean-Michel Le Gal
After Valerie Lee quits her college esports team, she quickly realizes that her decision comes at the cost of her scholarship. Valerie soon discovers a loophole to save her collegiate future, if she can find a coach and assemble a whole new varsity-caliber team capable of reaching the State Finals.
Love Accidentally
Genre: Comedy, Romance
Release Date: July 15
Cast: Brenda Song, Aaron O'Connell, Denise Richards, Maxwell Caulfield, Brooke Newton, Pedro Correa, Gib Gerard, Marc Anthony Samuel
Alexa and Jason are competing for a position at an advertising firm when their partners break up with them. Alexa mistakenly texts Jason, and they start a phone-only relationship. When they meet and the truth comes out, will true love prevail?
Don't Make Me Go
Genre: Drama, Comedy
Release Date: July 15
Cast: John Cho, Mia Isaac, Kaya Scodelario, Jade Harlow, Graham Vincent, Madeleine McCarthy, Quentin Warren, Nicholas Glasson, Ava Diakhaby
When a single father to a teenage daughter learns that he has a fatal brain tumor, he takes her on a road trip to find the mother who abandoned her years before and to try to teach her everything she might need over the rest of her life.
Persuasion
Genre: Romance, Drama
Release Date: July 15 (Netflix)
Cast: Dakota Johnson, Henry Golding, Cosmo Jarvis, Richard E. Grant, Nikki Amuka-Bird, Ben Bailey-Smith, Izuka Hoyle, Mia McKenna-Bruce, Nia Towle
Living with her snobby family on the brink of bankruptcy, Anne Elliot is an unconforming woman with modern sensibilities. When Frederick Wentworth – the dashing one she once sent away – crashes back into her life, Anne must choose between putting the past behind her or listening to her heart when it comes to second chances.
Source link